5. JAPANESE WHISKY MICRO DISTILLERY
After success of Ichiro's malt, some micro distilleries are also founded. Annual distillation capacity is 6000 L or a little more because 6000 L is minimum volume for whisky production license in Japan. Normally these distilleries are producing not only whisky but also gin and other liquor.
1915 Miyashita Shuzo
2015 Okayama distillery
Miyashita Shuzo started whisky distillation by stainless pot in 2011 as fastest micro distillery, installed copper pot still in 2015 and established Okayama distillery in 2017.

They are originally sake brewery however they have wide range of liquor business including not only sake and whisky but also beer, Shochu (traditional Japanese spirt), gin and etc. so that they had malt fermentation experience by beer business and spirit distillation experience by Shochu business before they started whisky business.

They are using malt made from local 2 raw barley and long time low temperature fermetation method.
Doppo Craft Beer
Miyashita Shuzo is one of the most fastest micro craft brewery in Japan. They started beer production in 1995 which is only 1 year after minimum production volume for licensing was decreased to 60KL from 2,000KL.
They established strong craft beer brand "Doppo" which is getting awards in beer competition regularly.

Malt fermentation experience for Doppo beer was very helpful for matl fermentation of whisky.

They name "Doppo kan (Doppo maision house)" their visitor center including shop and restaurant and you can see pot still from its restaurant.
New born (It is actually new pot)
6 months and 1 year (It is actually new born)
Okayama Gin
Akihikari Vodka
1918 Chugoku Jozo
2018 Sakurao distillery
Chugoku Jozo was founded in 1918 as sake brewery and expanded liquor product range. They started whisky business around 1950s with their own distillation but stopped it around 1980s or 1990s.

They restarted whisky business with Togouchi brand in 2015. It is bollted import bulk whisky but aged in thier cellar. They founded Sakurao distillery to start own distillation in 2018.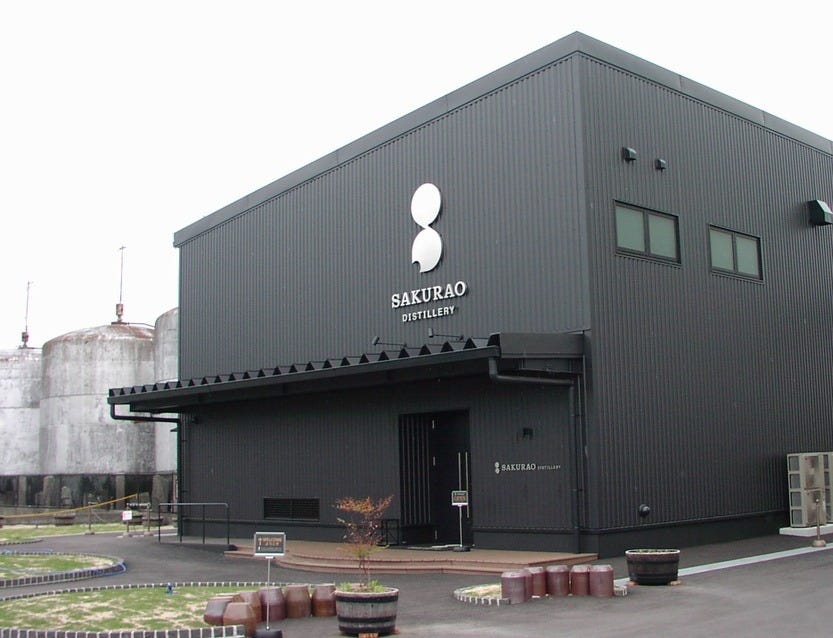 Story of whisky by Chugoku jozo
Togouchi whisky
Chugoku Jozo restarted whisky business by Togouchi brand whisky in 2015 although their Sakurao distillery was founded in 2017. So actually Togouchi whisky is made from import bulk but aged in cask in thier aging cellar in Japan.

Togouchi is thier aging cellar's name which was oroginally test tunnel for railway tunnel construction.
Lost history
Chugoku Jozo seems to have distilled whisky before. You can find 2 old small pot stills in thier site. One is copper pot still and the other is stainless boday + copper neck custom pot still. These seem to have distilled whiskey in the 1960s-1980s.

It is said that these pot stills started distilling whisky in 1960s and a few bottle remiain in the company however nobody know furthter detail. Thier "Glory whisky extra" is major Ji whisky (Local whisky) in 1980s.
Bottle by Sakurao/Chugoku Jozo
Sakurao Gin
(Limited, Original, Hamago)
1883 Nagahama Roman Beer
2018 Nagahama distillery
Nagahama distillery was founded by Nagahama roman beer which is well known brewpub in Japan, which means they knew malt fermentation in advance. They decided to establish micro whisky distillery in their brewpub which building is historical rice warehouse from hundres years ago in 2016 when they visited micro distilleries in Scotland.
They established Nagahama distillery just 7 months after their decision without pre-announcement. They could do it such a short period because they chose Aranbic type pot still made in Portugal which is often used for Caldados and Cognac although pot still for whisky is normally made by Scotish company which has 3 years waiting list today.
1823 Kinouchi Shuzo
2016 Nukada distillery
Kinoshita Shuzo was established in 1823. They were originally sake brewery but strated beer production in 1996 which is only 2 years after minimum beer produciton volume for license was decreased from 2,000 KL to 60 KL. They established strong craft beer brand "Hitachino nest beer" and they are one of the biggest local beer producer in Japan.

They started whisky distillation in 2016 with hybrid pot still and malt made from local barley. It is small distillery as a one section of thier beer brewery. Whisky distilled there are mainly for high ball (Whisky and soda) can and they don't release whisky bottle.

However it is very important test plant for their whisky making experience. They opened Hitachino nest Tokyo distillery in 2019 and Yasato distillery in 2020. But earlier one is more restaurant with pot still than distillery because it doesn't have commercial production license so facility is only for visitor's experience.