2. SURVIVOR OF 80s JI-WHISKY
Within 20 years after WW2, more than 15 new distilleries were founded in Japan. These whisky was called Ji-Whisky (It means local whisky) and it was boom around 1980. However only Saburomaru distillery by Wakatsuru Shuzo and Akashi white oak distillery by Eigashima Shuzo survived as distillery and continue till today.
1918 Wakatsuru Shuzo
1952 Saburomaru distillery
Saburomaru distillery is long established Japanese whisky distillery but very innovative. They were using copper/stainless hybrid custom pot still although they developed world 1st molding whisky pot still ZEMON. They also established own Mizunara cask builder supply chain with local companies and local material although other craft distilleries depend on one monopole company Ariake today.
It was renovated by crowdfounding in 2016 but it was mainly supported by local people as same as their support for reconstruction after burned down in 1953.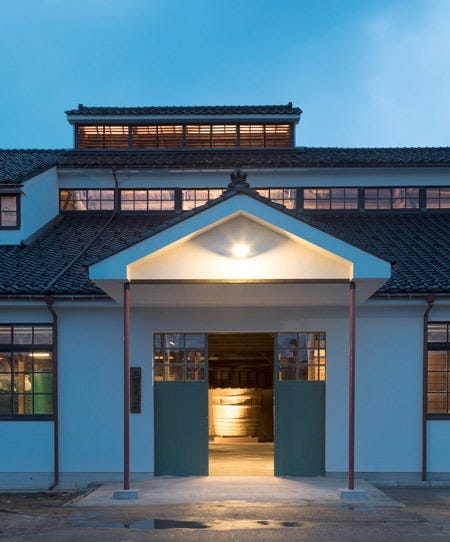 Story of Saburomaru distillery
Molding pot still ZEMON
Zemon is 1st molding whisky pot still in the world. Actually it is not pure copper but copper base alloy containing a little tin so they built micro prototype and checked removing sulfur performance and other effect in advance. In fact it remove sulfur as like normal copper pot still and make mild new pot as like tin glass during distillation.

Indeed ZEMON is well technical designed because its module concept enable partial replacement like different angle pot still arm or different shape pot still neck. In add, pot still wall has more thickness than normal pot still, it mean longer life of pot still,

ZEMON was developed together with Oigo Seisakusyo, large bell manufacture in local for Buddhist temple. It has 400 years history and most major company for large bell for Buddhist temple in Japan.
Local Mizunara cask
Mizunara cask became very famous and popular along with Japanese whisky. However almost all Japanese craft whisky distilleries depended on one cask producer, Ariake Sangyo except for Chichibu distillery which has own inhouse cask production.

Wakatsuru Shuzo established local Mizunara cask supply chain together with local partners. Their Mizunara cask made from local Mizunara tree by traditional architectural technology which has been used for temple and other historical building since 14th century.
Renovation by crowdfunding
Saburomaru distillery was estabilished in 1952 but got burned down in 1953 and reconstructed in 1954 by strong local support. But that building became very old in 21 century and renovation was needed.

So Saburomaru distillery refresh crowdfunding project was started in 2016 and nearly 40 million JPY was applied mainly from local people. It covered more than half of total cost including not only building renovation but also new pot still and malt mill.
Building inside is redesigned not only for production but also for visitor.

Refresh was completed in July 2017 and 12,500 visitors visited in 1st year.
Sunshine premium
Moon glow
Junenmyo


Available Bar and Shop in Netherlands
Available Bar and Shop in Germany
1888 Eigashima shuzo
1964 Eigashima distillery
(Original name is white oak distillery)
Eigashima Shuzo started to produce "whisky" in 1919 although it seemed to be imitation whisky made from alcohol, sugar and caremel color as same as almost all whisky in Japan in the beginning of 20th century.

They started whisky distillation in 1964 when they took over copper pot still from Silver whisky distillery which was famous Ji whisky distillery in Nara prefecture but got bankrupt.

Originally distillery name is white oak whisky distillery but renamed to Eigashima distillery.
Story of Eigashima distillery
Name change
It was originally named as White Oak whisky distillery according to their whisky brand "White oak". In 1940s-1970s, that kind of English name were very popular to use Japanese whisky name. (For example, Silver whisky, Torys whisky, Tommy whisky, Mars whisky, Sunshine whisky, Golden horse whisky, Peace whisky, Peak whisky, Cherry whisky)

However Japanese name became main stream of Japanese whisky brand and Akashi brand became more pupular than white oak in 2010s. So that they renamed to Eigashima distillery in 2019.
Pot still from Silver whisky
Silver whisky by Towa jozo was one of the most populr Ji whisky in 1950s. They change company name to Silver whisky from Towa Jozo in 1960 but their distillery was burned down by fire in 1964 and they got bankruput.

Pot still was taken over by Eigashima Shuzo and cask was taken over by Monde Shuzo. Eigashima Shuzo started own distillation by this pot still which is exhibited at distillery today.
Akashi single malt series
1952 Toho shuzo
1960 Morozoff shuzo(Rename)
1972 Monde shuzo(Rename)
1962?-2005? Ishiwa distillery
Monde shuzo is well known as craft winery today but they had whisky businss including their own distilled whisky. They started whisky business in 1962 and they took over stock cask in 1967 from Silver whisky going bankrupt in 1964. They were managing several Morozoff bar duirng 1960s makers bar boom.

They were using small pot still till 1983 but they seems to have purchased whisky from Toyo Jozo in parallel. They might have distilled whisky again in 2005 or little earlier because they released bottle "Fujiumi 10Y" only to European market in 2015.
???? Towa Jozo
1960-1964 Silver whisky (Rename)
1950s?-1964 Nara Sanzyo distillery
Silver whisky was originally brand name of Towa Jozo. It was one of the popular whisky in 1950s but they lost competition probably due to financial capability to manage many makers bar which almost all whisky companies had to sell their whisky like Torys bar, Nikka bar, Suntory bar, Morozoff bar and etc..

They went bankrupt around 1964 and distillation pot still was taken over to Eigashima Shuzo and stock casks were transferred to Monde shuzo.
1920-1992 Toyo Jozo
1945-1996 Ohito distillery
Toyo Jozo started whisky business in 1945. It was fastest whisky distillation start after WW2 because they were using residue after making diastase from ration barley in the beginning.

Their main brands was 45, Jupitor and JBA. They were merged by Asahikasei in 1992 and whisky business was terminated in 1996.
1842 Takara shuzo
1947-2003 Shirakawa distillery
Shirakawa plant was originally founded as winery in 1939 by Daikoku Budoshu but sold to Takara Shuzo in and they upgrade it to Shirakawa distillery and started whisky distillation.
Malt whisky distilled there were mainly used for thier 2 whisky brand "King whisky" and "Ideal whisky" had been owned by Teikoku Shuzo and Taisho Shusei which were acquired by Takara Shuzo and then they released "Shirakawa 12Y" around 1980s-1990s.
When it was closed in 2003, several stock cask were sold and some bottlers released as bottle Shirakawa ??Y (Max is 33Y).